Below is a listing of the Videos included in our Training Tutorials.  The goal with all of our Training Videos is to teach you not only HOW to use Quickbooks, but also WHY things are done a certain way.
Be sure to scroll all the way down, where you will discover our Advanced Video Series topics.  These videos are included with our $147 "Business" License, and will skyrocket your knowledge of Quickbooks!
Finally, we invite you to uncover the secrets in our 3 free videos, revealing 3 of the most crucial transactions to record correctly in Quickbooks.  Doing these wrong will cost you $1,000's!  Get your copy of the Videos HERE.
CORE VIDEO LISTING –
Video 1  – INTRODUCTION AND NAVIGATION IN QUICKBOOKS 
Using Forms, Lists and Registers
Getting around in Quickbooks
Understanding the Basics of Accounting

Video 2 – SETTING UP QUICKBOOKS CORRECTLY
Using the Express Start Function
Example of Setting up a New Company in Quickbooks

Video 3 – WORKING WITH LISTS IN QUICKBOOKS
Editing the chart of accounts
Working with the Customers & Jobs List
Working with the Employee Center
Working with the Vendor Center
Adding custom fields
Managing lists
Video 3a – WORKING WITH THE LEAD CENTER
A detailed Overview and Explanation about working with the Lead center.
Video 3b – WORKING WITH THE CALENDER VIEW
A detailed Overview and Explanation about the Calender View in Quickbooks.
Video 3c – WORKING WITH THE DOCUMENT CENTER
Discover how to work with the Document Center
Video 3d.  Working With the Income Tracker and Snapshots

Video 4a – WORKING WITH BANK ACCOUNTS IN QUICKBOOKS
How to write a Quickbooks check?

How to use Bank Account registers?
Video 4b – WORKING WITH BANK ACCOUNTS
How to enter a handwritten check?
Transferring money between accounts
Video 4c – WORKING WITH BANK ACCOUNTS
Reconciling bank accounts

Video 5a – USING OTHER ACCOUNTS IN QUICKBOOKS
Other account types in Quickbooks
Entering and tracking credit card charges


Reconciling your credit card
Video 5b – USING OTHER ACCOUNTS IN QUICKBOOKS
Working with asset accounts
Tracking depreciation
Video 5c – USING OTHER ACCOUNTS IN QUICKBOOKS
Working with liability accounts
Tracking loans
Recording a payment on a loan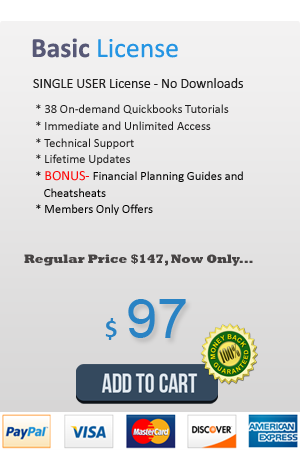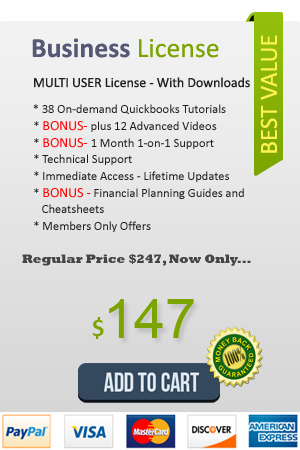 Video 6a – ENTER SALES INFORMATION INTO QUICKBOOKS
Using Sales Forms in Quickbooks

How to Filling in a Sales Form
Video 6b – ENTER SALES INFORMATION
Memorizing a Sale
Entering a new service item
Using multiple price levels
Video 6c – ENTER SALES INFORMATION
Creating invoice letters
Generating reminder statements
Processing sales orders
Tracking Backorders

Video 7a – RECEIVING PAYMENTS AND MAKING DEPOSIT'S IN QUICKBOOKS
Recording customer payments

Handling down payments or prepayments
Video 7b – RECEIVING PAYMENTS AND MAKING DEPOSIT'S IN QUICKBOOKS
Making deposits
Getting cash back from a deposit

Video 8 – ENTERING AND PAYING BILLS IN QUICKBOOKS
Handling bills in Quickbooks

Using Quickbooks for accounts payable

Entering bills

Paying bills
Video 9a – ANALYZING FINANCIAL DATA IN QUICKBOOKS
How reports and graphs help you understand your business
Creating QuickReports
Zooming in on a QuickReport
Creating and customizing preset reports
Video 9b – ANALYZING FINANCIAL DATA
Saving report settings
Memorizing reports
Printing reports
Video 9c – ANALYZING FINANCIAL DATA
Exporting reports to Microsoft Excel
Updating reports in Microsoft Excel
Creating QuickInsight Graphs
Video 10a – SETTING UP INVENTORY IN QUICKBOOKS
Turning on inventory
Entering products into inventory
Ordering products and creating purchase orders
Video 10b – SETTING UP INVENTORY
Receiving inventory
Entering a bill for inventory
Manually adjusting inventory
Video 10c – SETTING UP INVENTORY
Tracking finished goods
Creating inventory assemblies
Building finished goods
Selling finished goods

Video 11a – TRACKING AND PAYING SALES TAXES
Overview of sales tax in Quickbooks
Setting up your tax rates and agencies
Indicating who and what gets taxed
Applying tax to each sale
Video 11b – TRACKING AND PAYING SALES TAXES
Determining what you owe
Using the sales tax payable register
Paying your tax agencies

Video 12a – DOING PAYROLL WITH QUICKBOOKS
Introduction and understanding your options
Video 12b – DOING PAYROLL WITH QUICKBOOKS
Setting up and understanding payroll items
Setting up employee payroll information
Video 12c – DOING PAYROLL WITH QUICKBOOKS
Writing a paycheck
Viewing the paycheck
Printing paycheck stubs
Video 12d – DOING PAYROLL WITH QUICKBOOKS
Tracking your tax liabilities
Paying payroll taxes
Video 13a – ESTIMATING AND PROGRESS INVOICING IN QUICKBOOKS
Creating jobs and estimates
Writing an estimate
Creating multiple estimates
Video 13b – ESTIMATING AND PROGRESS INVOICING
Creating an invoice from an estimate
Displaying reports for estimates
Updating job status

Video 14a – TRACKING TIME IN QUICKBOOKS
Tracking time and mileage
Turning on time tracking
Entering time data
Entering mileage
Video 14b – TRACKING TIME
Batch Invoicing Time and Expenses
Displaying project reports for time tracking
Paying nonemployees for time worked

Video 15a – CUSTOMIZING FORMS AND WRITING QUICKBOOKS LETTERS
About Quickbooks Forms

Customizing your invoices and forms

Designing custom layouts for forms
Video 15b – CUSTOMIZING FORMS AND WRITING LETTERS
Using Quickbooks letter's
Preparing Quickbooks letter's
Editing Quickbooks letter's
Video 16 – PUTTING IT ALL TOGETHER
How to best use what you've learned
Where to start?Quickbooks University Video Listing
ADVANCED VIDEO LISTING (Included with the Business License) – 
Video 1 – TRACKING & RECORDING PETTY CASH
Setting up and tracking Petty Cash in Quickbooks
Best practices in handling petty cash in your company

Video 2 – HOW TO AVOID EMPLOYEE THEFT
Best practices in setting up Quickbooks to avoid employee theft
Signs to be aware of with employee theft

Video 4 – USING BUSINESS FUNDS TO PAY PERSONAL EXPENSES
How to record transactions in Quickbooks when using business funds for personal expenses

Video 5 – USING CLASS TRACKING IN QUICKBOOKS
Why you would use class tracking in Quickbooks
How to set-up and use class tracking in Quickbooks

Video 6 – SETTING UP QUICKBOOKS WHEN YOU HAVE ALREADY BEEN IN BUSINESS
How to set-up your file for an existing business
Best practices for getting started when you have been in business

Video 7 – UNDERSTANDING CASH VS ACCRUAL BASIS ACCOUNTING
Understanding the differences and how to switch in Quickbooks
Reading financial statements under either basis of accounting

Video 8 – ADVANCED UNDERSTANDING OF YOUR FINANCIAL STATEMENTS
How to understand the details of your balance sheet, profit & loss and cash flow statement

Video 9 – USING FINANCIAL STATEMENTS TO GUIDE AND GROW YOUR BUSINESS
How to understand your financial statements to make business decisions
How to use your financial statements to increase cash flow

Video 10 – PREPARING 1099'S IN QUICKBOOKS
Understanding who should get 1099's
How to use Quickbooks to easily prepare your 1099's

Video 11 – ENTERING PAYROLL WHEN A PAYROLL COMPANY DOES YOUR PAYROLL
How to enter payroll transactions in Quickbooks from Payroll Company reports

Video 12 – HOW TO BUDGET FOR YOUR BUSINESS
The importance of budgeting in your business
How to set-up budgets in Quickbooks
How to use budgets in Quickbooks to track your progress